ON MAIN STREET IN HISTORIC LAUREL
Love where you live.
WELCOME TO PATUXENT PLACE
Fully renovated loft-style apartments surrounded by 100 shops.
Each of our 110, brand-new, studio, one and two-bedroom handcrafted loft-style apartments offer thoughtful and meticulous interior details, designed with your work life in mind as each apartment is also zoned for business use! The live/work floor plans include modern/industrial finishes, tall ceilings, massive windows, huge bathtubs, washer/dryer, colossal closets, designer appliances, and light-filled spaces. Patuxent Place offers multiple shared and private workspaces with 1 gig internet, printer & scanner, vending machines and a state of the art gym. You won't find amenities like these anywhere else.
On Site Manager & Maintenance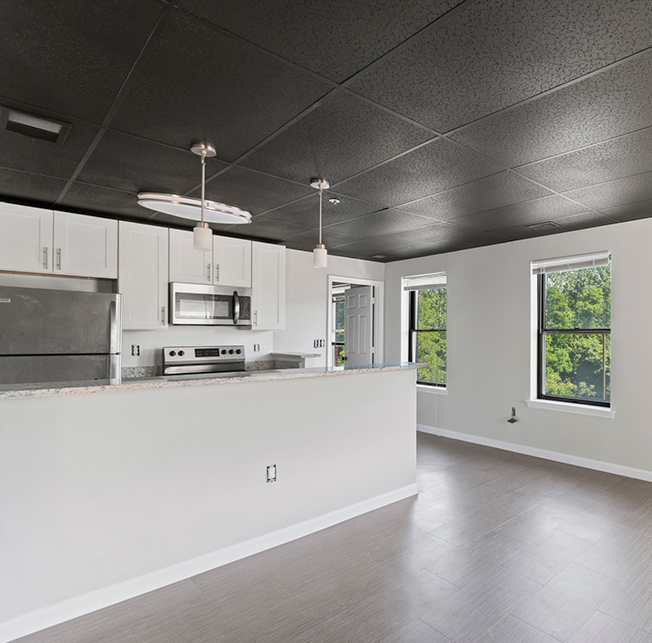 Floorplans
Our studio, one, two and three-bedroom floor plans are pet-friendly with newly remodeled features such as granite countertops, luxury vinyl flooring and brand new appliances.
Information
Location & Nearby Attractions
The key to good living is a location that puts you close to work and play.
Our Laurel apartment community is close to Silver Spring and Greenbelt. We're near several bus lines and are just .5 miles to the MARC Train via the Laurel Train Station and one mile from I-95.
Just 1 mile away, Towne Center at Laurel offers various retail shopping opportunities and multiple dining and entertainment options.
Frequently Asked Questions
FAQs
What's the area like?
Patuxent Place is in a great area! It's a modern day mayberry because it's located in historical laurel. We are centrally located in Maryland to Washington, DC, Baltimore, and Annapolis within 20-30 minutes! Tenants live right over 100 local shops, businesses, and food establishments making everything within walking distance.
Is it quiet at Patuxent Place?
Yes. The property is exceptionally built well with concrete and steel framing. You should not hear your neighbors and not be disturbed while inside or outside the unit.
What is the parking situation?
Parking is free with the option to pay for reserved parking for $40/month. Our brand new parking lot has 433 spaces for 148 apartments and commercial units so there is never going to be a parking issue. You can have two cars for each number of bedrooms you have.
What are the fees and deposits?
Application fee: $50
Security deposit: $500, *$200 of that is a non-refundable administration fee. 
*Based on credit and rental history
Residential Water Fee: $40/month
Commercial Water Fee: $40-$250/month  (ranges based on business type)
Pet Fees: $350 non refundable and $50/month per pet. If the pet is an emotional support animal, we require all documentation. 
Renters Insurance: $12/month ($10/month fee if no renters insurance)
Check/Money Order: $10 per payment (ACH IS FREE!)
Fees you control 
Month-to-Month fees: $350
NSF Fee: $35
Late rent fees: 5% (occurs on the 6th)
Optional Fees
1 Gig Internet: $79/month
Reserved Parking:  $40/month
Valet trash: $25/month
Included in rent
No trash fee provided you bring your trash and recycling to the

receptacle area located by the property entrance.

Appfolio recurring ACH processing fee

First come, first serve parking

Access to state of the art gym and sauna

Military & police discount:

3%
What are my utility responsibilities?
Tenants pay for their own electricity, directly to BGE. We charge a flat $40/month flat water fee for residential units and commercial units depends on business and usage. Trash is included in the rent. If you want Comcast high speed 1gig for $79 per month ($112 regularly) for a $33/month savings. We also offer renters insurance (required) for $11.25/month.
How is laundry handled?
Every unit has your own washer and dryer.
How close are we to public transportation/the interstate ?
A quick 4-minute driver or 1.3 miles away to I-95. I-295 is 10 minutes away. We also have a MARC train station 0.8 miles or a 5-minute drive away. There are bus stops right in front of our building too in walking distance.
What do I need to qualify for an apartment?
Credit Score: 650
Income Requirements: Proof of wages that are 2.8x the monthly rent. At Patuxent, rents range from $1,750 to $2,400 so you would need to earn between $4,900 and $6,720 per month. You also need a clean record with no prior evictions, judgements or collections.
Proof of Income: last 3 months bank statements in addition to pay stubs for last 30 days. If self-employed, last 3 months bank statements in addition to tax return (must be within last 12 months). Acceptable payment proofs are bank statements, paystubs and tax returns. 
If applicant is unemployed:
Applicant can provide most recent 6 months of bank statements.

Applicant can provide a copy of a trust agreement or trustee's statement confirming the amount, frequency, and duration of income payments.
If Applicant is receiving unemployment benefits:

Applicant can provide most recent 3 months of bank statements.

Applicant must also provide the most recent Unemployment Benefit's Statement.
Income Requirements – Guarantor: Guarantors must have an individual gross monthly income that is equal to or greater than 4x the monthly rent. Example: If you are applying to rent an apartment with a total monthly rent equal to $2,000 per month, your guarantor must have an individual gross income of at least $8000 per month or greater. Guarantors must possess a social security number in order to be considered for qualification. After approval, guarantors must complete a Lease Contract Guaranty form in the presence of a CameronsCRE associate or they must have the form notarized with the original paperwork returned to our associates.
Renter's Insurance: Prior to move in, applicants must provide a renter's insurance policy which contains at least $100,000 in Personal Liability Insurance. Applicants can conveniently purchase renters insurance from our preferred provider Folio Guard Smart Ensure. Until you provide us proof that you have obtained a personal renter's insurance or liability insurance policy with $100,000 in liability coverage for the duration of your lease, we will procure liability-only insurance coverage on your behalf and you will be charged $10.00 per month as additional monthly rent. *Affordable Housing Applicants are exempt from this rule.
Do you accept pets?
Yes. Each unit is allowed up to 2 pets under 50 lbs. We charge a non-refundable deposit of $350 and $50 monthly fee per pet.
How do I pay rent or file a maintenance request?
We use Appfolio property management software which has a tenant portal to manage your payments (ACH, cc, etc) and submit maintenance requests. All maintenance requests are required to be submitted through the appfolio portal and they are first come, first serve. If you have a maintenance emergency please call (202) 281-8649.
BECOME PART OF OUR COMMUNITY
Have some questions?
Fill out the contact form below and a member of our team will be in touch shortly!
555B Main Street, Laurel, MD 20707
Explore Our Other Communities
University Place
Baltimore, MD